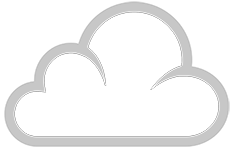 Features
IncoCloud Highlights
Secure online backup
IncoCloud features fast and secure backup. This means that to have a reliable backup all you need to do is add your database in IncoCloud and just stay online. Everything is done in the background and is encrypted trough a secure channel to our servers.
Incremental backup
IncoCloud tracks all the changes made.Only changed information is transferred which lets IncoCloud complete the backup process in a matter of seconds.
No interruptions
Backup is not performed by an administrator once a week or once a day. It is being done every few seconds if there are changes. All the work is done in the background and you don't have to stop your work to complete the backup.
Distributed backup
With IncoCloud the information is backed up on remote locations, which immediately increases the reliability of your whole system. Even if a single computer system loses all its data in any of your locations your data can be restored from our servers.
Multi-store configuration
Multi-store setup was never that easy. You don't need an experienced administrator to setup multi-master replications between databases over the internet. Even if the internet connection is slow or not available at all times, IncoPOS keeps track of all your changes, until the moment you go online and all the information synchronizes.
No additional software
IncoCloud integration is built right into IncoPOS and because of that , you don't need to install any additional software to gain access to IncoCloud.
No complex networking
You don't need to install VPN tunnels, or open and forward ports. All you have to do is make sure that 
IncoPOS
has access to the internet and all the complex networking is done automatically for you.
Expand seamlessly
Most POS systems limit the number of stores you can have (up to 10 or 20), in IncoCloud you can have up to 99 databases in one group! Each database can be a different location or a mobile salesman.
Anti-theft protection
Even in the unfortunate events of stolen computer, or an ex-employee having access to your data, the security features of IncoCloud can help the administrator of the group regain security.
Remote wipe
Databases can be remotely wiped by administrators from another computer so that all the information will be gone once IncoPOS is started with internet connection.
User permissions
Users can be granted or denied access to IncoCloud groups. When access is removed they will not be able to make a new copy of the database in future. Even in cases when you trust users, you can give them limited permissions so they can have access to modify only what they need.
Read only databases
People with read-only permissions can create only read-only databases which automatically roll back any changes they make. This is very convenient for accounting or statistics departments, where employees are supposed to only gather, analyze and export information from IncoPOS, without making any changes.
Services
IncoCloud can give you even more options to connect with external systems by using the builtin services. Services let you configure connections with other services you use and let IncoCloud synchronize the information for you automatically.
QuickBooks Connector
Instead of making weekly or monthly exports to
QuickBooks Online
you can let
IncoCloud
synchronize your operations, with their items, vendors and clients automatically. Simply enable the service and setup the connection with your
QuickBooks Online
company information. You can find instructions on how to do that
here
.
Web Store Connector
Web stores are getting more and more popular every year. But managing them and your retail store at the same time is not always an easy task. The Web Store Connector service synchronizes the sales and availability with your Magento or Amazon web store so you can easily track your overall performance from IncoPOS.
Vending Connector
With the Vending Connector you can connect vending machines which are equipped with Incotex FVC devices to your database. Instead of collecting reports from each vending machine manually, you can let IncoCloud receive that information automatically. IncoPOS can show you the sales made each day, the number of clients since the last visit from maintenance or the machines that are not functioning correctly at the moment.